Advice Articles
A Round Up of Recipes for World Baking Day 2017
A Round Up of Recipes for World Baking Day 2017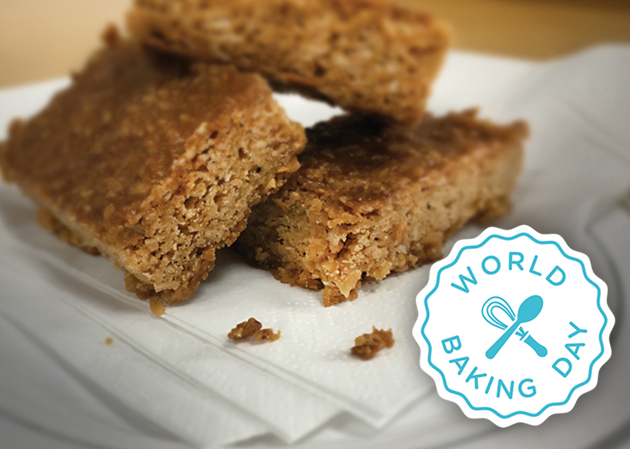 We've selected some of the most delicious sounding bakes for World Baking Day 2017.
  Here at Lansinoh we understand that breastfeeding is as much about mum as it is baby. And what better way excuse to indulge in some baked goods than the reminder that you're burning off up to another 500 calories from breastfeeding?
We've rounded up a handful of sweet and savoury recipes (that have given us pangs of hunger) especially for World Baking Day 2017 below:
1.  Wholemeal Spinach, Feta and Potato Pies as featured on Mother & Baby
Who said bakes have to be savoury to be delicious? Spinach and feta is a classic combination and these pies are packed with healthy nutrients for mum and baby. Originally from Dean Brettschneider's book Pie this recipe takes a couple of hours with prep and chilling time but it's worth the time investment as they're equally delicious hot or cold.
2. Pear and Raspberry Oaty Crumble as featured on Mother & Baby
This is a great recipe for getting older siblings involved in the action as they can get stuck in with helping create the crumble topping. Whether you're wanting some midweek comfort food or a dessert to follow a roast, a crumble is a classic and as this recipe is from Ella's Kitchen, you have the reassurance that it has little tastebuds in mind (without compromising on flavour).
3. Vegan Apple Pie Muffins from Suburban Hippie Homestead
Some mums have to vary their diets while breastfeeding if it's discovered that their baby has allergies so this recipe stood out for us as it doesn't feature gluten, eggs or dairy. The recipe is easy to follow and the muffins only take 15 minutes to bake so there's a greater chance of being able to make a batch between feeds (maybe!).
4. Flapjacks from Annabel Karmel 
Oats have slow release energy which make them a perfect snack. They also have the added benefit of being easily adaptable so you can pack them with fruit or chocolate dependent on your mood. Our Marketing Manager has her own variation which are inspired by cherry bakewells but she's not prepared to share the recipe!
If you've got a favourite bake, share it with us on Facebook, Instagram or Twitter. Happy World Baking Day!
These recipes have not been created or are endorsed by Lansinoh and it is recommended that you consult a health care professional if you are considering a change in diet/you require nutritional support while breastfeeding.
Related Articles
Letting friends and family in on your secret can be one of the most...

Read More
Related Products
Sore nipples are very common during breastfeeding and can often be a result of the uncomfortable positioning...

View

For mothers that are experiencing latching challenges, Lansinoh® Contact Nipple Shields are effective...

View